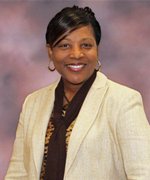 Principal Sheila Henry
(512) 414-2543
Email
Sheila L. Henry, Principal
Lyndon B. Johnson Early College High School
Follow me on Twitter @LBJPrincipal
As the proud principal of The Lyndon B. Johnson Early College High School, it is my pleasure to work with nearly 900 students and approximately 130 faculty and staff members to ensure a positive and rewarding experience for your student. We are proud of our rich history of academic, extracurricular, athletic, Early College High School and Career and Technology programs designed to benefit and advance student curricular and extracurricular achievements. Our Health Science and Principals of Teaching Academies enables students to bridge classroom instruction with practical experience in the medical field. A variety of course offerings that are rigorous and supported by a great staff ensure students' academic success. Additionally, our students have the opportunity to participate in a comprehensive athletic program and compete with some of the best athletes in the state of Texas.
This year (and every year), the students and staff of LBJ will work towards continued improvement on the Texas State Standards as well as strengthening our commitment and service to the greater community. I am proud to say that for the first time in five (5) years, LBJ has met State Standards, received a "Met Standard" rating from Texas Education Agency as well as earned two (2) distinctions in both "Closing the Achievement Gap" for all students and "Student Progress" for all students who were assessed. In addition to that, we graduated eleven (11) students with their high school diploma and Associates Degree. We also graduated thirteen (13) students from the Fire Academy. The LBJ staff believes that teaching above and beyond the standards helps build well-rounded students who are prepared for success after high school. LBJ is very proud of our rich traditions and we look forward to providing the best possible learning environment for all students. Please help us encourage your students to become involved in our many programs outside of the regular school day. Student organizations, clubs, and athletics all promote and support school community involvement and academic success.
I look forward to working with the many families that trust the Lyndon B. Johnson Early College High School staff to educate and care for their students. The administration team is always available to meet and discuss school issues or the individual progress of any student with parents, guardians, and the students themselves. Additionally, the excellent college and career advisors, counselor and other support staff make themselves available at all times to assist in supporting our students' experience.
To make the school year the best for you and your student please support Lyndon B. Johnson High School in any way you can. Consider becoming part of the Jaguar family, by joining PTSA, Campus Advisory Council, an athletic booster club, or volunteering for help with school events. I look forward to making the high school experience a positive and memorable one for you and your student.
We will be seeing you at our many activities that make high school a great experience! On behalf of the staff here at Lyndon B. Johnson Early College High School, thanks for supporting us and your student and making this another great year!
Go Jags!!